Paint Your Pet 4-Week Camp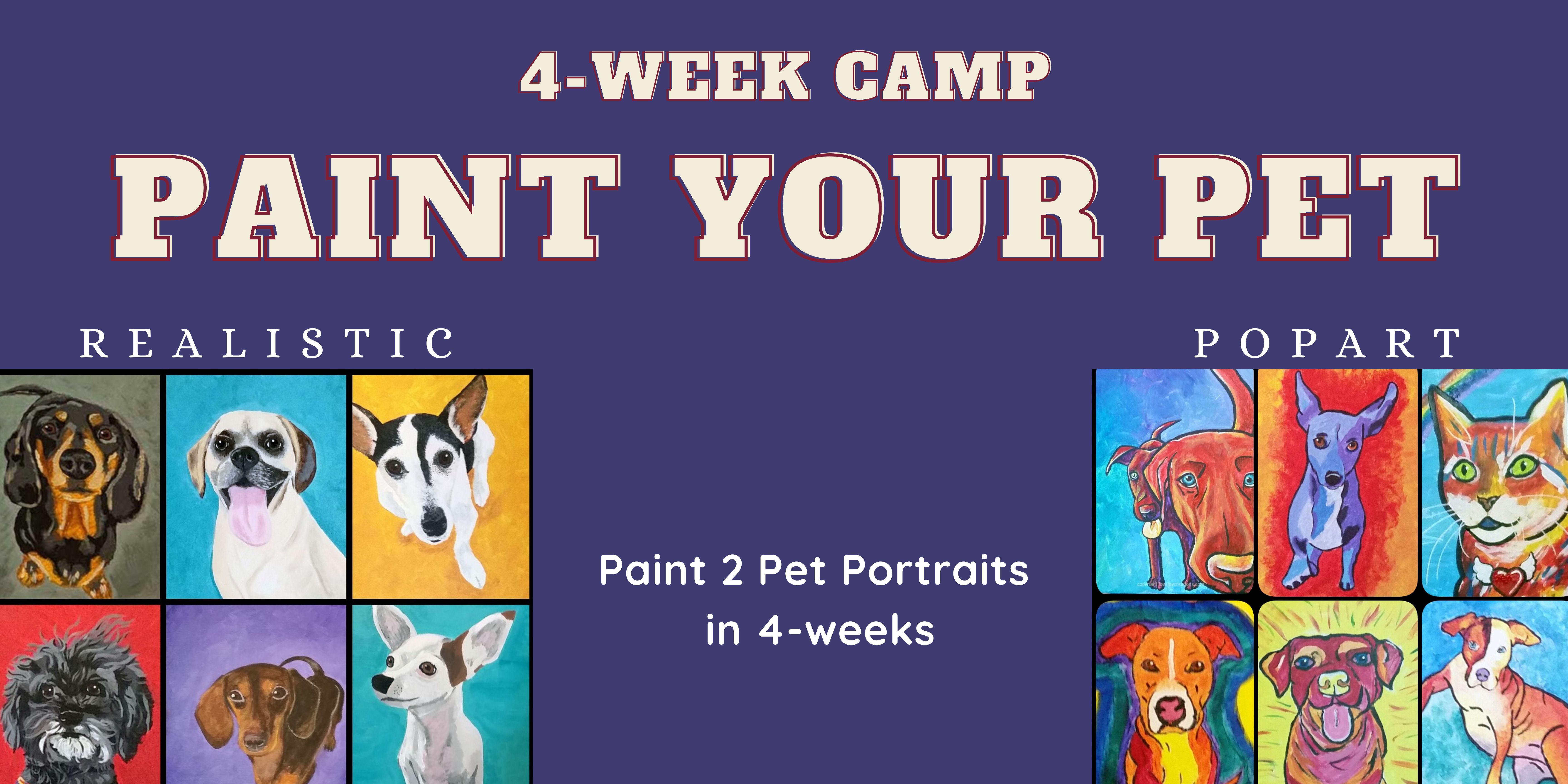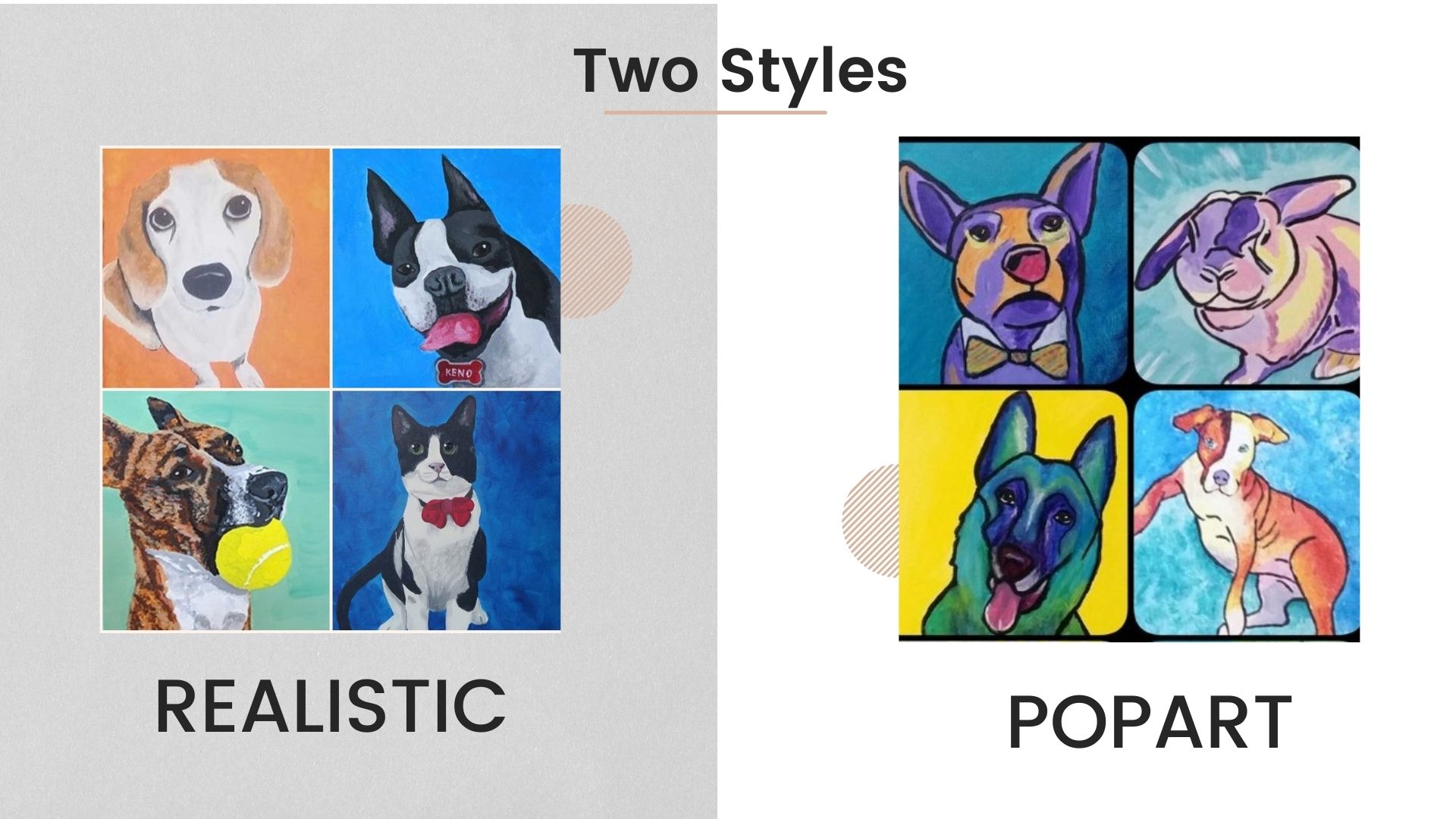 Do you relate to any of the following?


Have you enjoyed the paint-and-sip experience and want to improve your skills but are not sure where to start?
~

Do you consider your pet a family member?
~
Do you like to learn with weekly goals?
~
Do you want weekly feedback from Lovejoy to improve your skills?
~
Do you need a relaxing hobby?
~
---
If you can relate to any of the above statements then you are ready to

Take the Paint Your Pet 4-week Journey.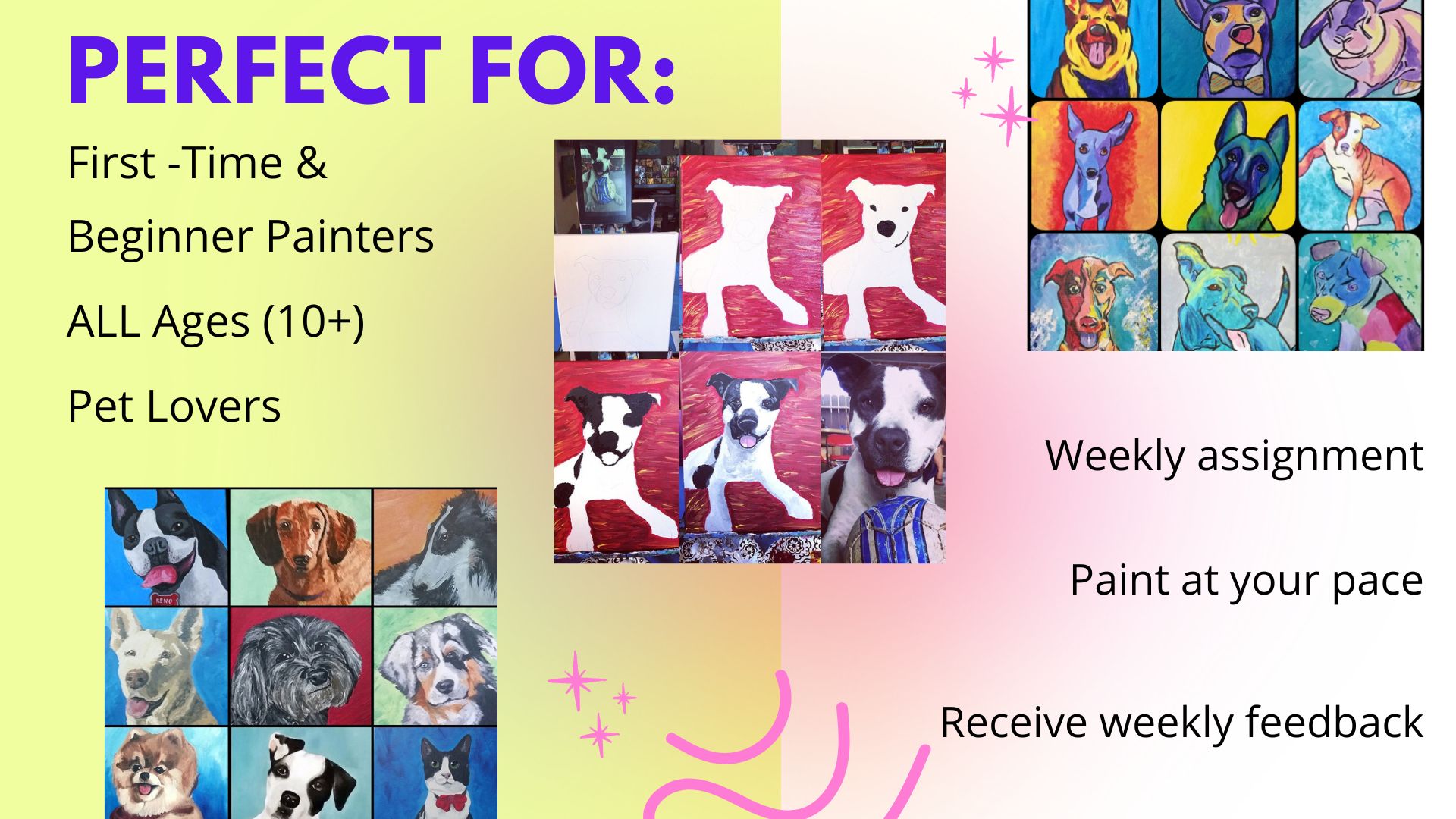 In 4 weeks you will:


Learn how to paint with acrylics


How to paint from a photo


WEEK 1: Learn to Edit/Transfer a photo


WEEK 2: Learn how to paint POPArt style


WEEK 3: Learn how to paint Realistic style


WEEK 4: Student choice - realistic or pop art


Receive weekly feedback/mentor from Lovejoy
(4 weeks)


Learn from an instructor with 15+ years of experience
(90% of my students are first-time painters)



90 days of access to the course


(3 months access = Paint as many pets as you want in that timeframe)
Start YOUR camp today!

Impress yourself with what you create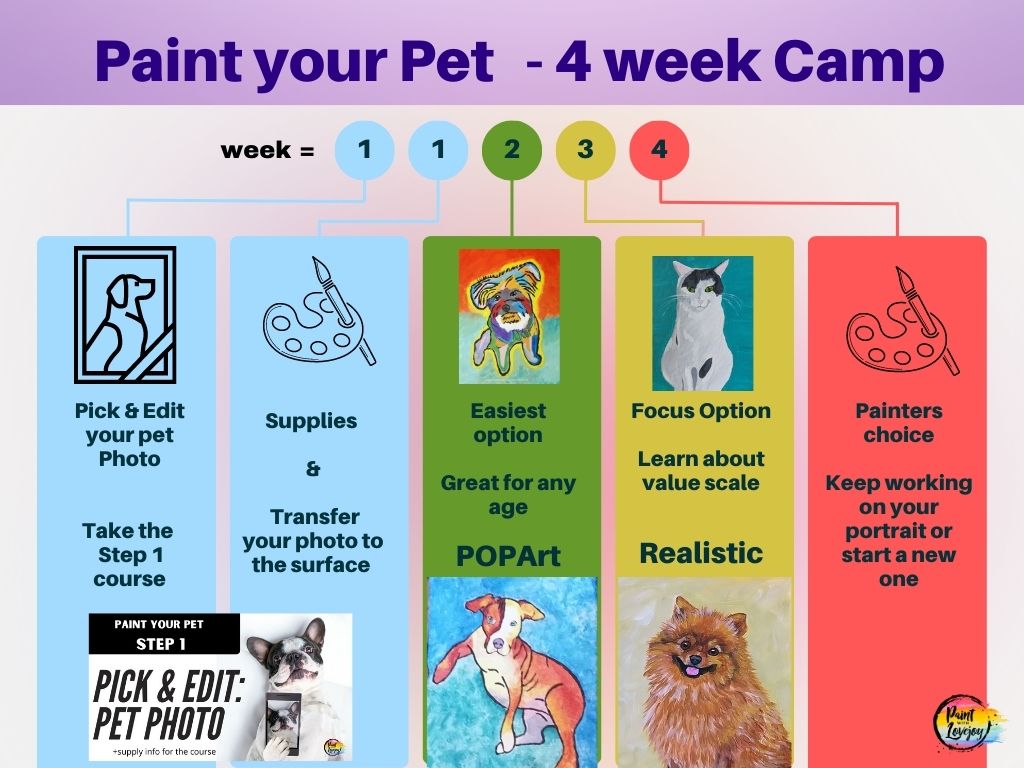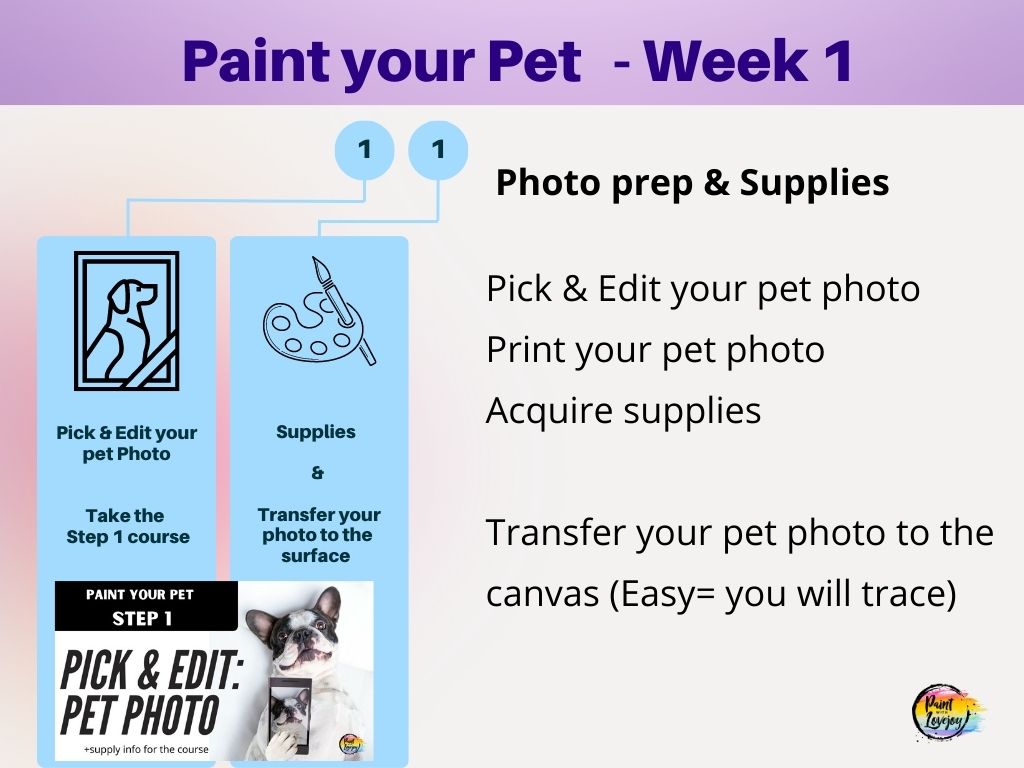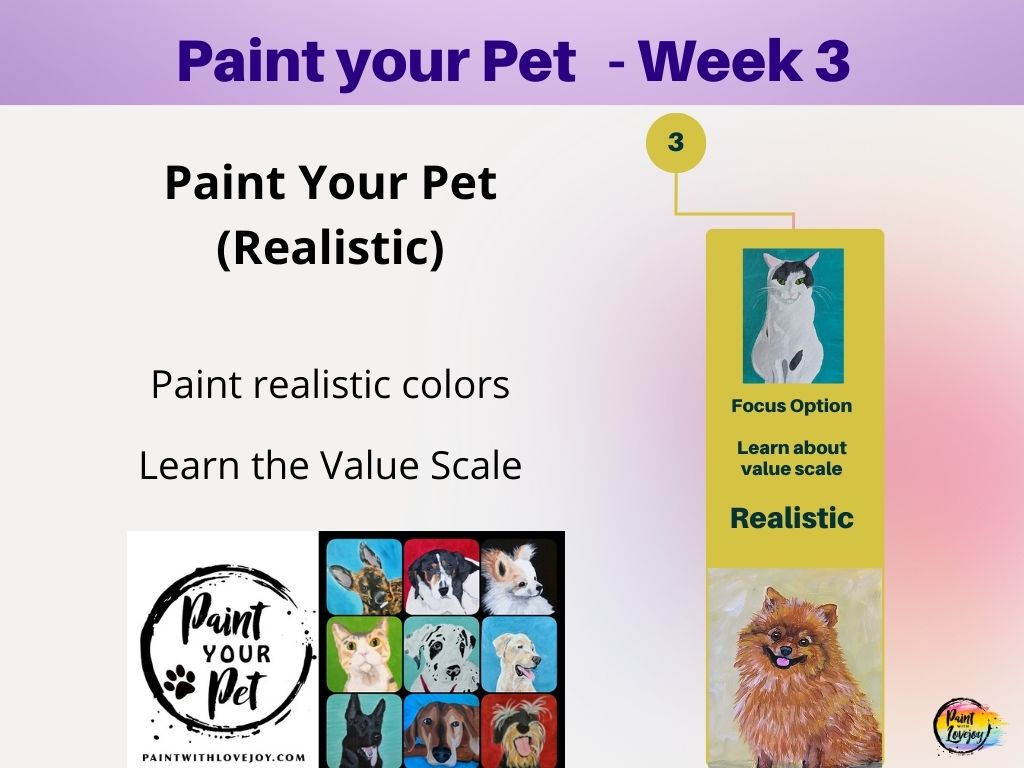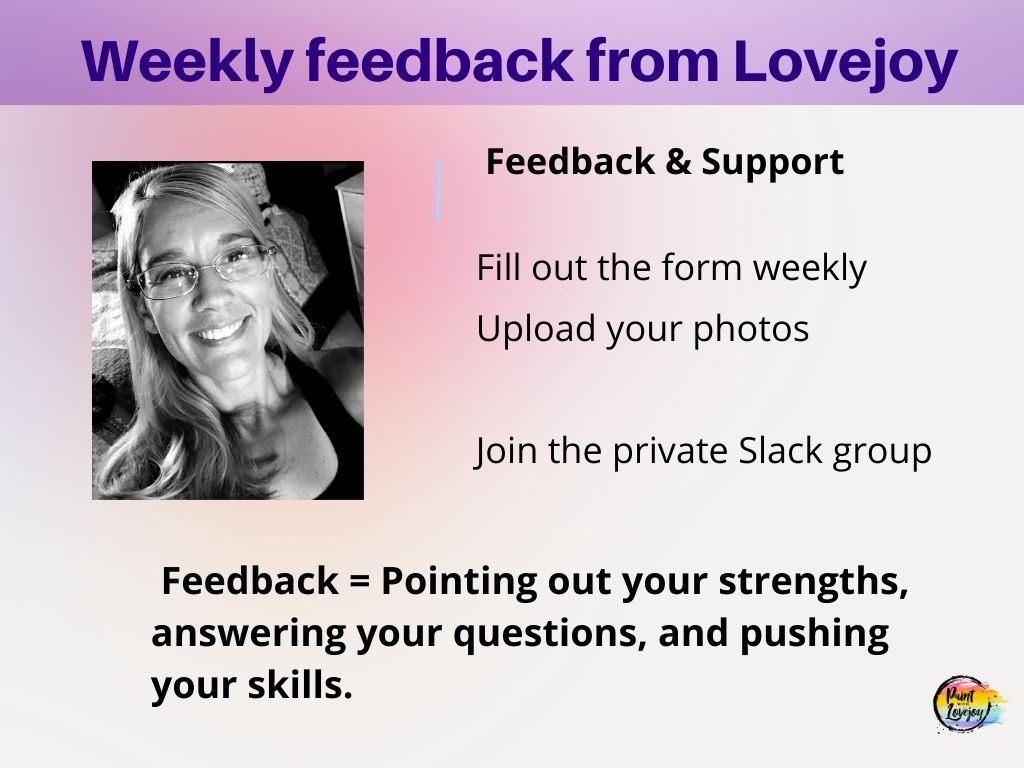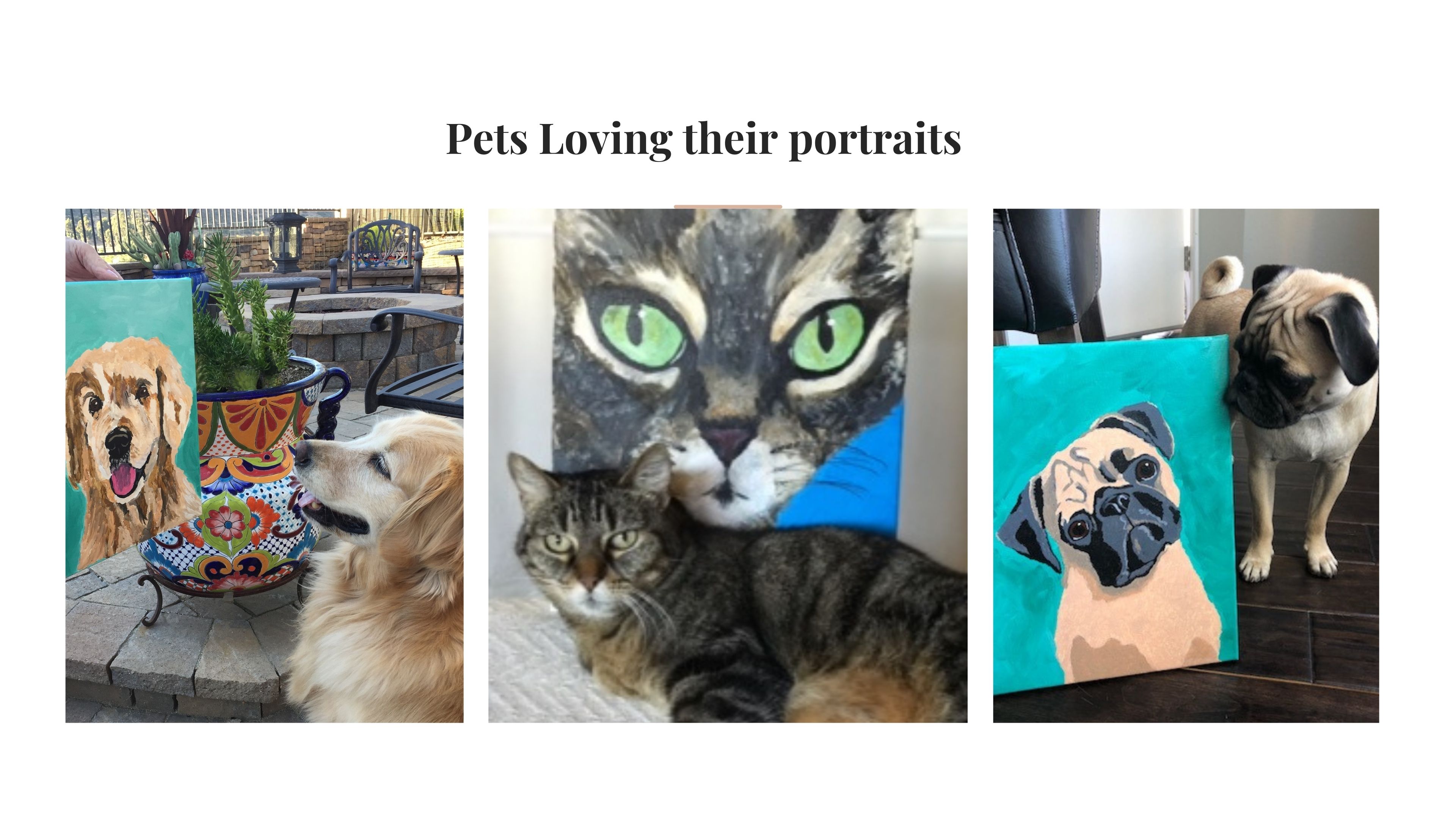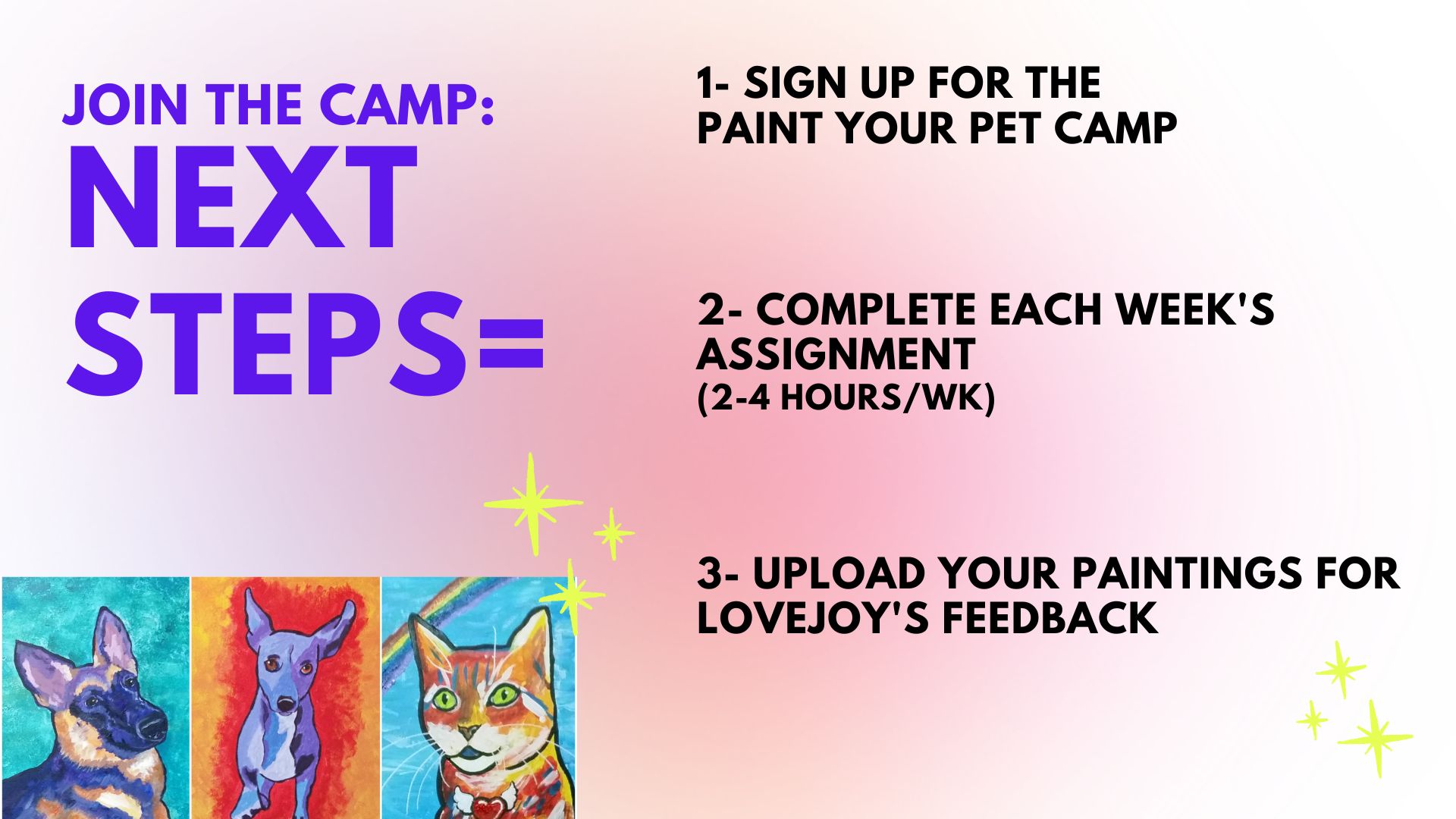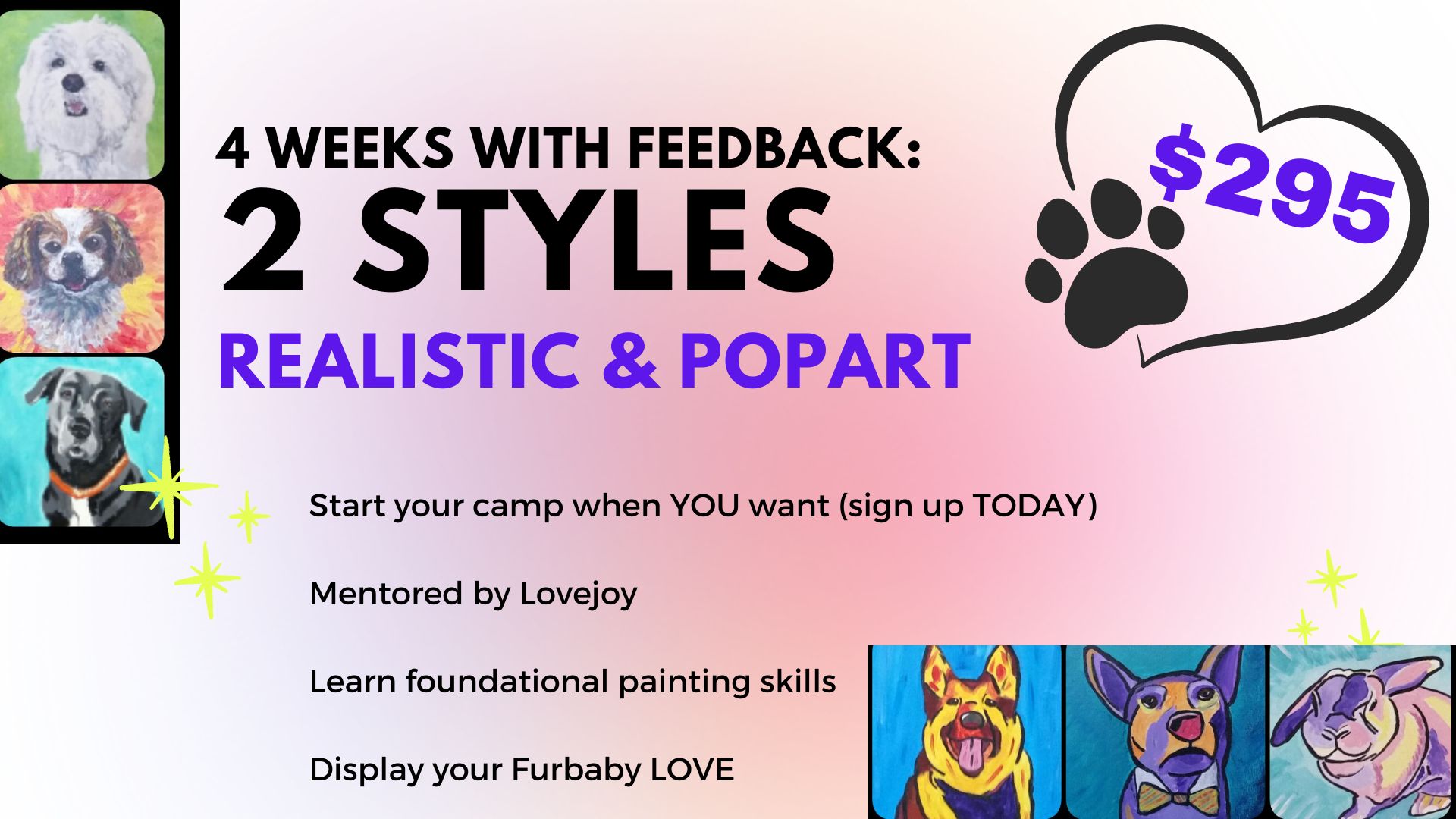 ATTN: Educators / Homeschoolers / Parents
If you have more than 1 student you want to enroll you can add an "extra student" here or add "Bonus Offer" when purchasing this course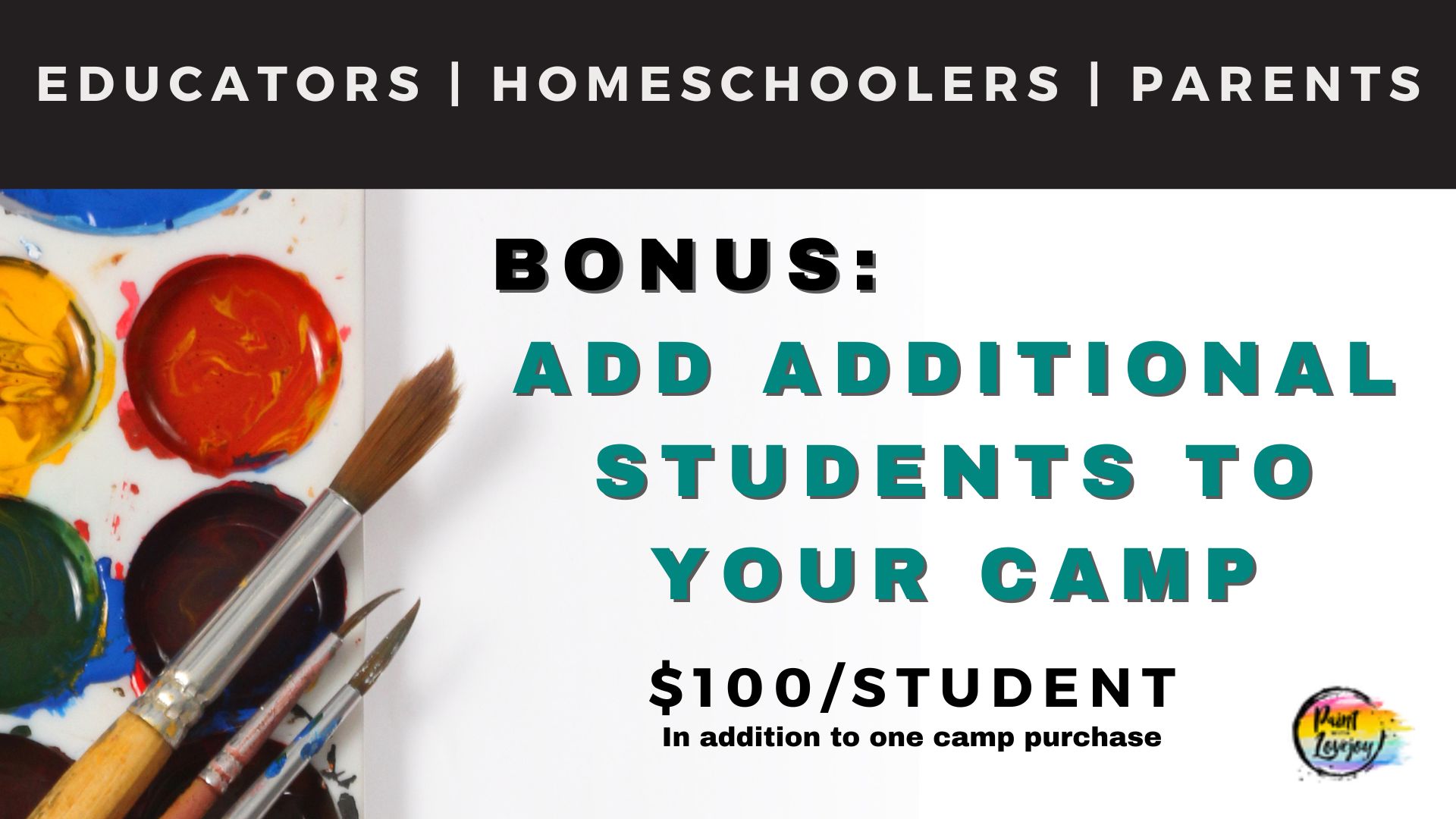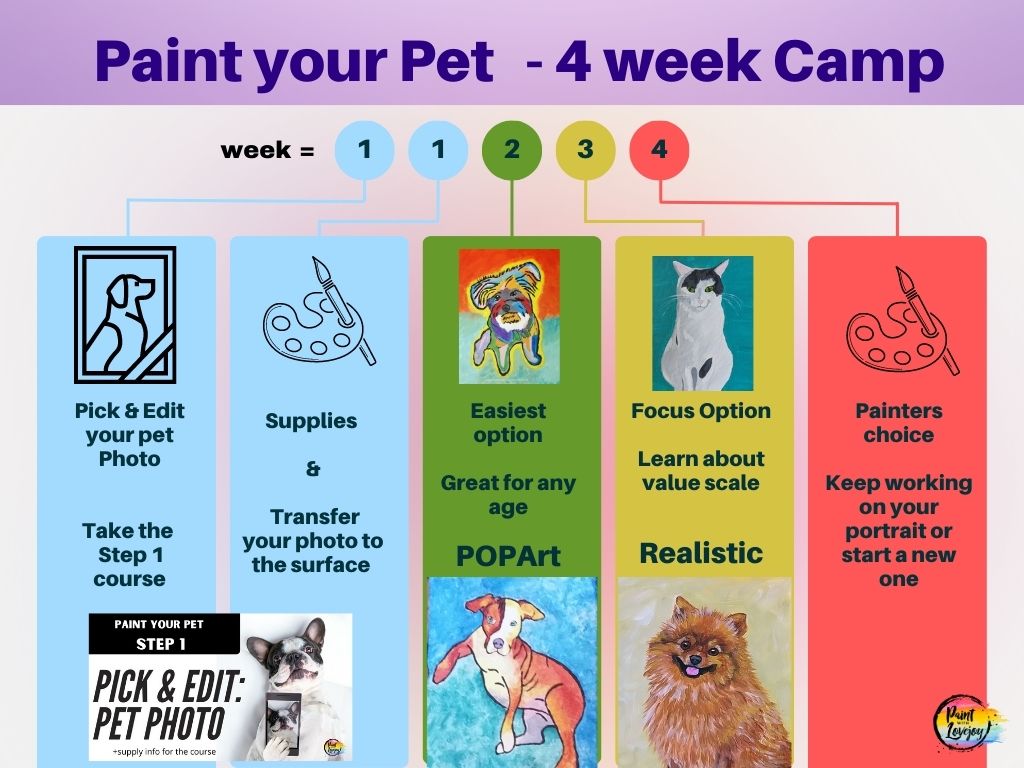 ---

With the Lovejoy Method & Direct Support, your CONFIDENCE will grow!

You Will:

1 - Gain an understanding of the basics of acrylic painting

2 - Cultivate a positive mindset for creativity
*Mindset tips, Positive support & feedback from Lovejoy

3 - Learn that practice creates progress
*weekly painting assignments
4 - Be more comfortable with brush control, and your supplies

5 - Understand the Value Scale and apply it to future creative projects
6 - Learn to push your skills
*weekly feedback from Lovejoy will give you support to grow

7 - Discover the relaxing benefits of painting
*You will start to look forward to your "Creative time" & de-stress from the week

8 - Learn from a teacher with 15 years of experience teaching first-time painters
*Lovejoy has helped thousands of students transform from Scared Creatives into Confident painters
---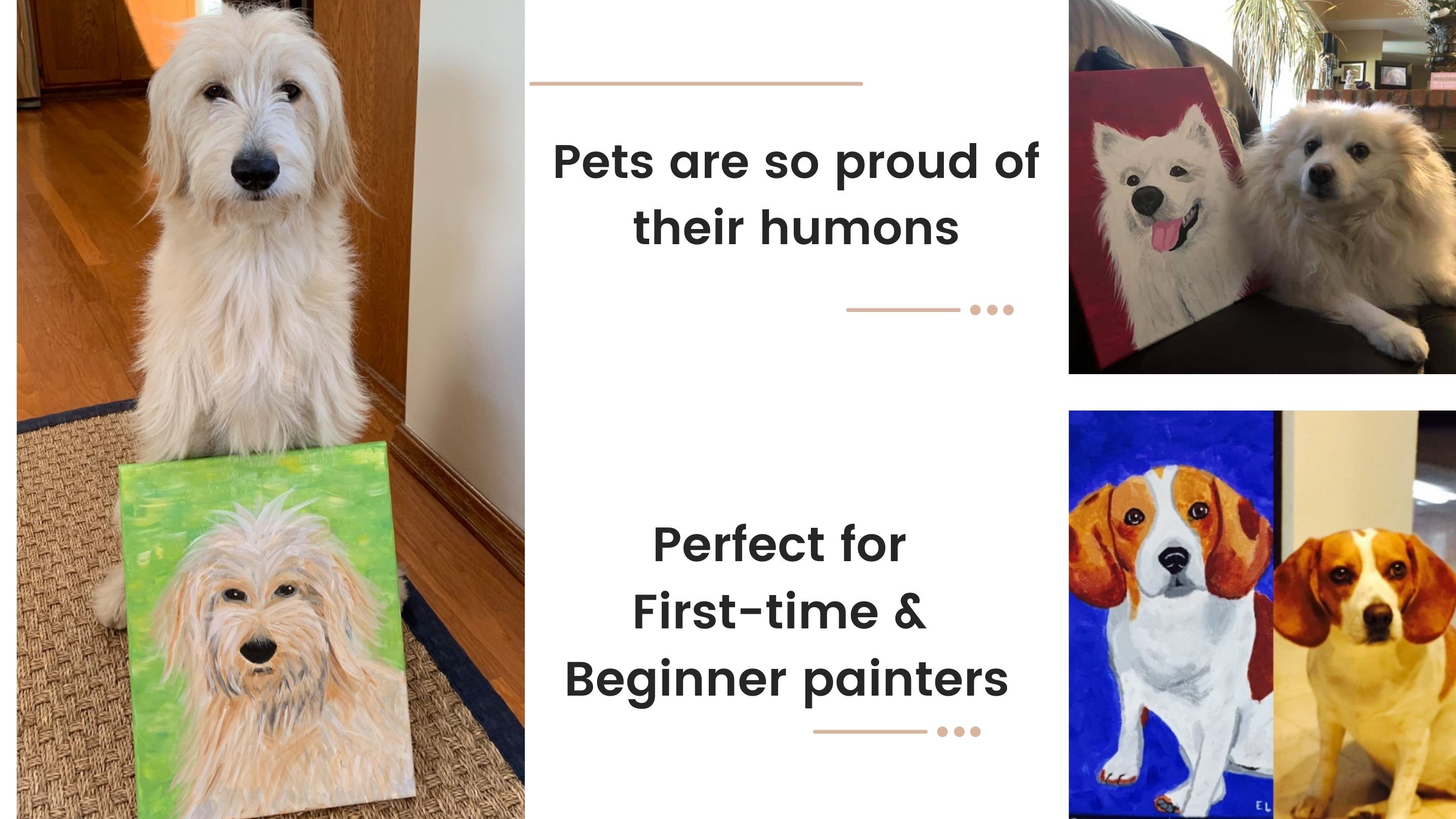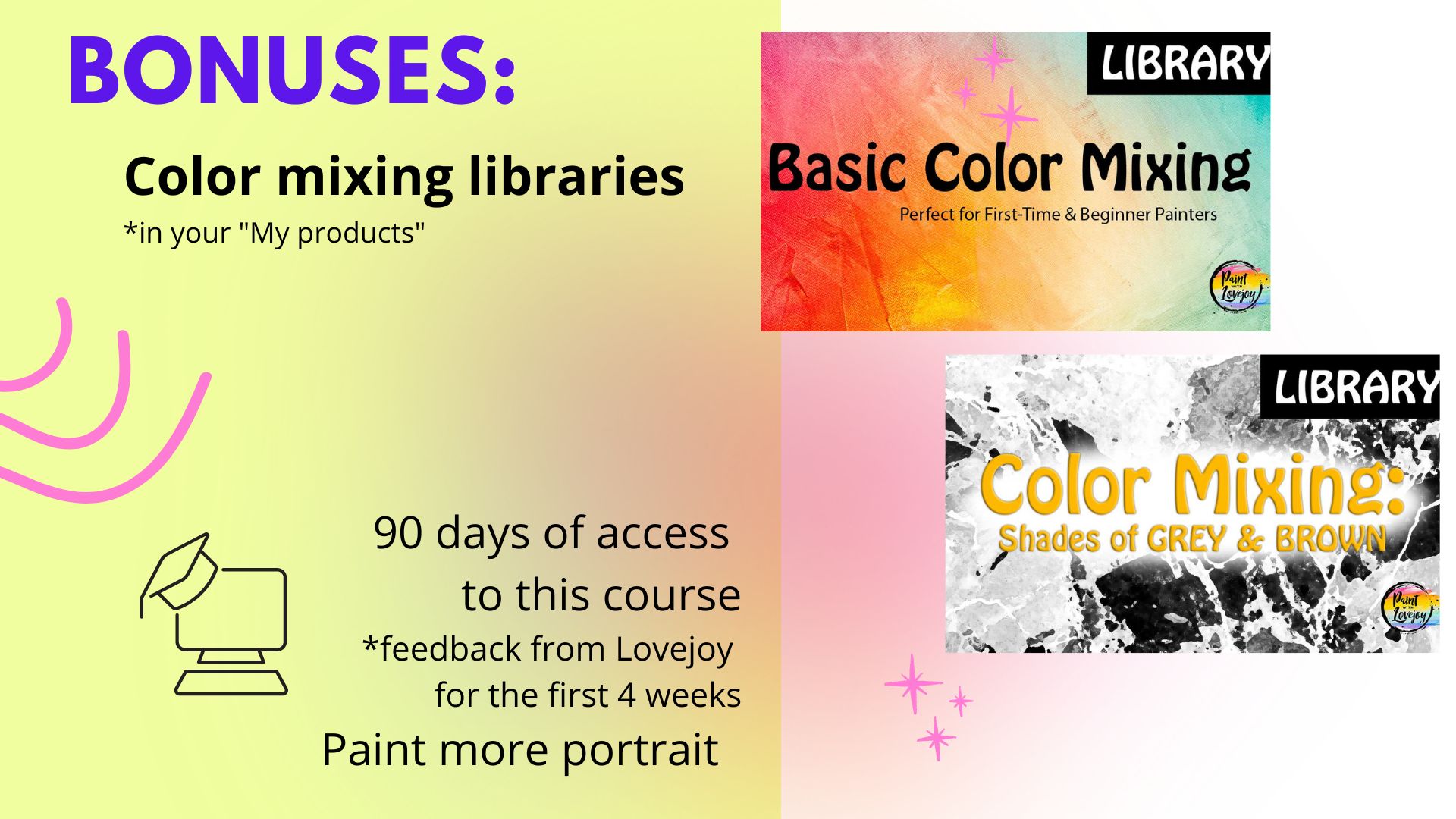 Frequently Asked Questions
When does the course start and finish?
Your camp starts when you sign up. You have a full schedule and when you have the time and desire to paint, you should be able to start ASAP! Support from Lovejoy is the first 4 weeks from when you enroll. You will have 90 days(3 months) of total access to the tutorials in the course. You can paint as many pets portraits as you like in this camp.
How long do I have access to the course?
The camp is 4-weeks of structure and support from Lovejoy. You will have access to the course for 90 days total, so you can paint more pets (30 days with Lovejoy | 60 days extra access)
Are refunds available if I don't like the course?
Sales on all digital products/courses are non-refundable. We will try to resolve any issue. email
[email protected]
, Please include your name and email used when registering.
How will Lovejoy provide Feedback on my artwork?
Each week you will fill out a form in the course and upload your photos from the week. Lovejoy will look over the questions and your photos and provide feedback via email. You are encouraged to ask your questions and Lovejoy will address them and help encourage your progress. You can also reach out to Lovejoy via the private slack group or email.
What if I don't need the feedback? I just want the tutorials.
If you don't need the feedback, I recommend checking out the Self-paced Option for the individual steps. Go to paintyourpetcourse.com (or in the menu) and choose the Self-paced option With the self-paced option you can pick and choose which style you want to learn and the duration for the course access.
Can I do this camp with my kids?
Yes! Please paint with your kids and encourage creativity. The camp fee is for 1 student. If you want to add on an additional person, it's an additional $100. Both students will receive feedback from Lovejoy. To Add the "Extra Student" Purchase this camp and add the "bonus offer" during checkout. Need to add more than 1 person to your camp? You can add up to 5 people, add the product "CAMP: Extra Student Fee for Camps" to your order. Email me with any questions.
I am an educator / homeschooler / parent, Can I use this in my classroom for the art project?
Yes! I encourage educators to utilize my courses. If you have more than 1 student, you can purchase "CAMP: Extra Student Fee for Camps" and add up to 5 additional students. It is an additional $100/student. This gives each student enrolled access to Lovejoy for feedback and questions on their artwork. The group as a whole will access the camp through the Main camp purchaser's login. If you have a class larger than 6 please email
[email protected]
to make arrangements and receive a group rate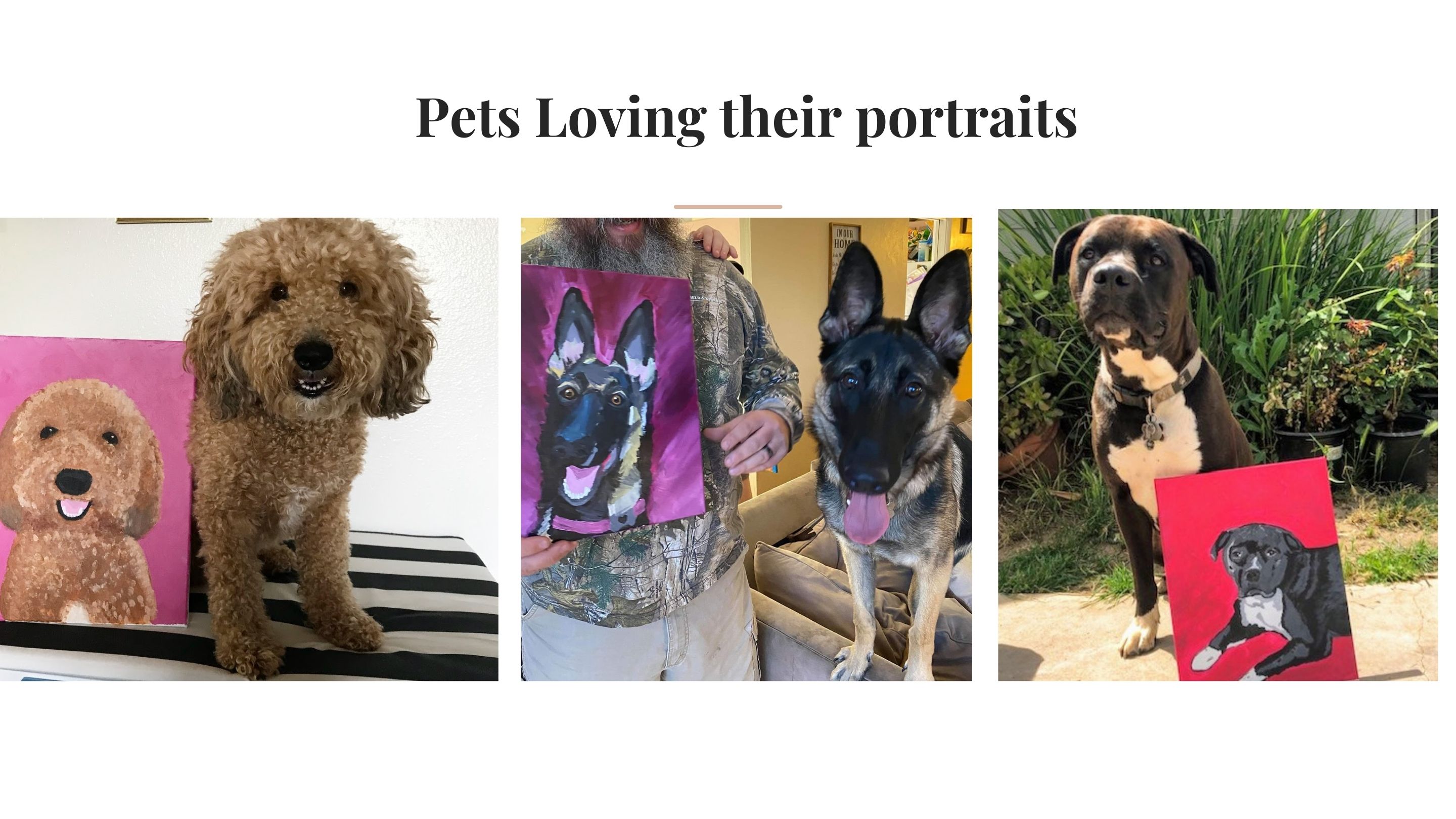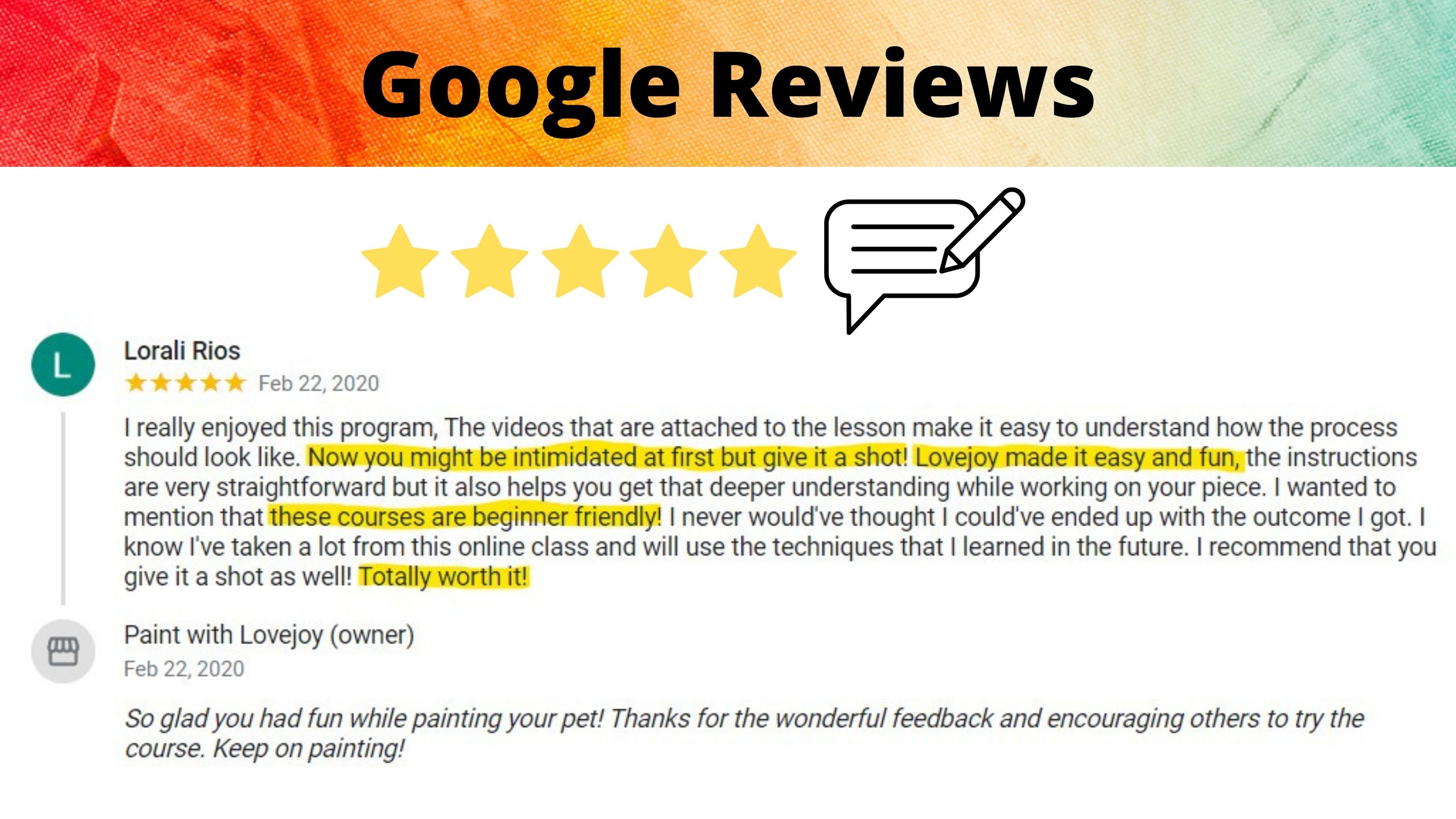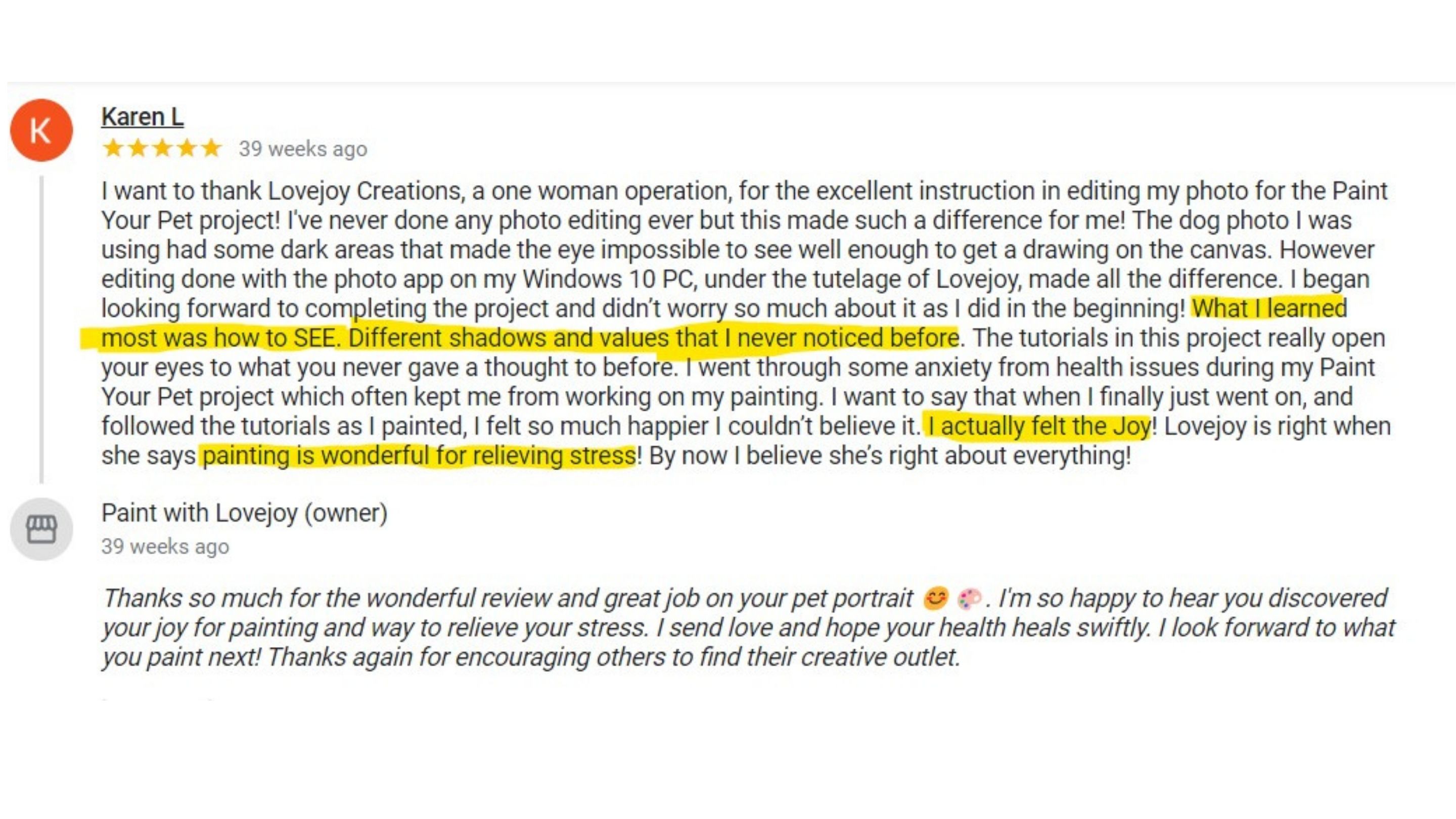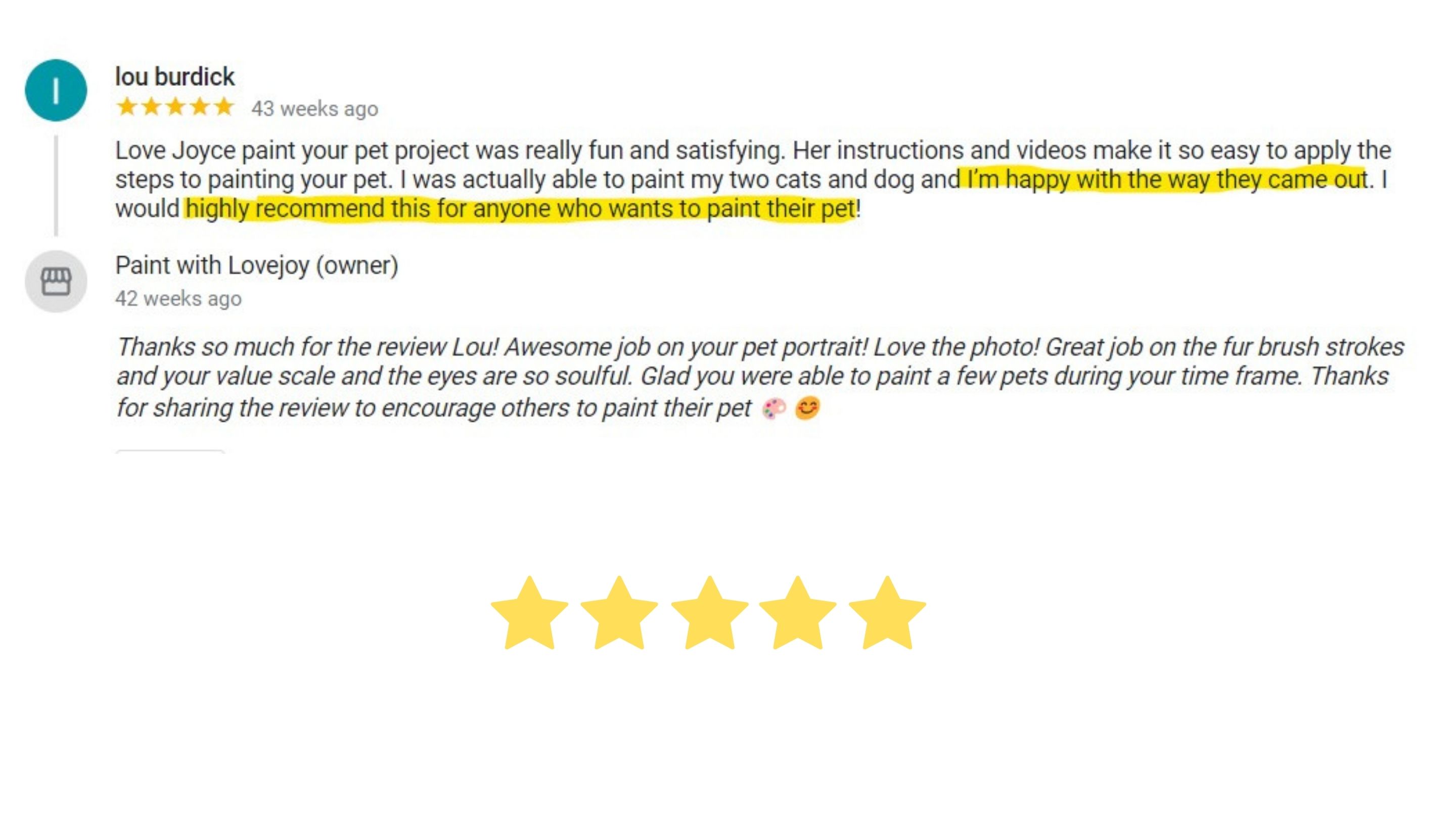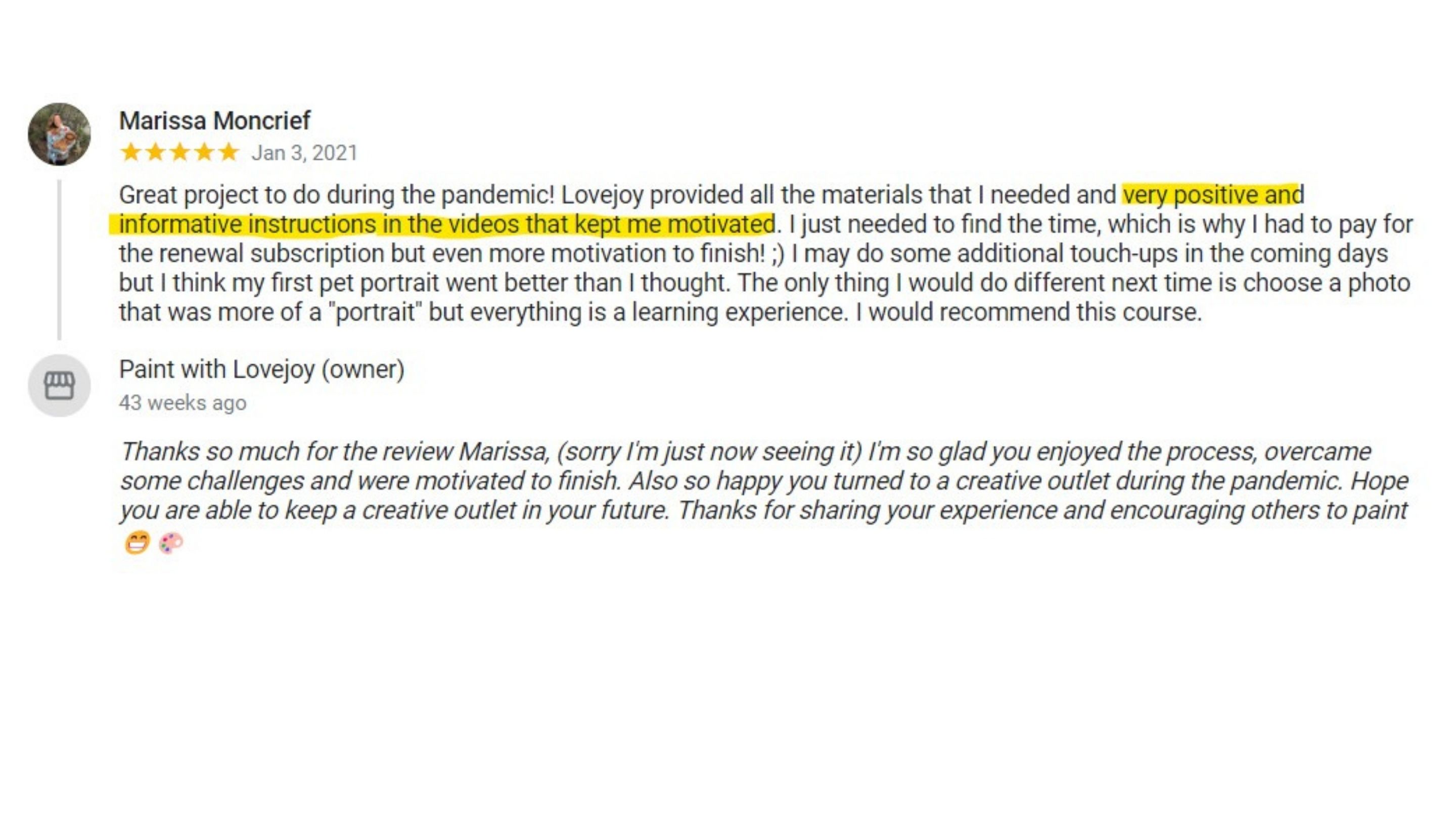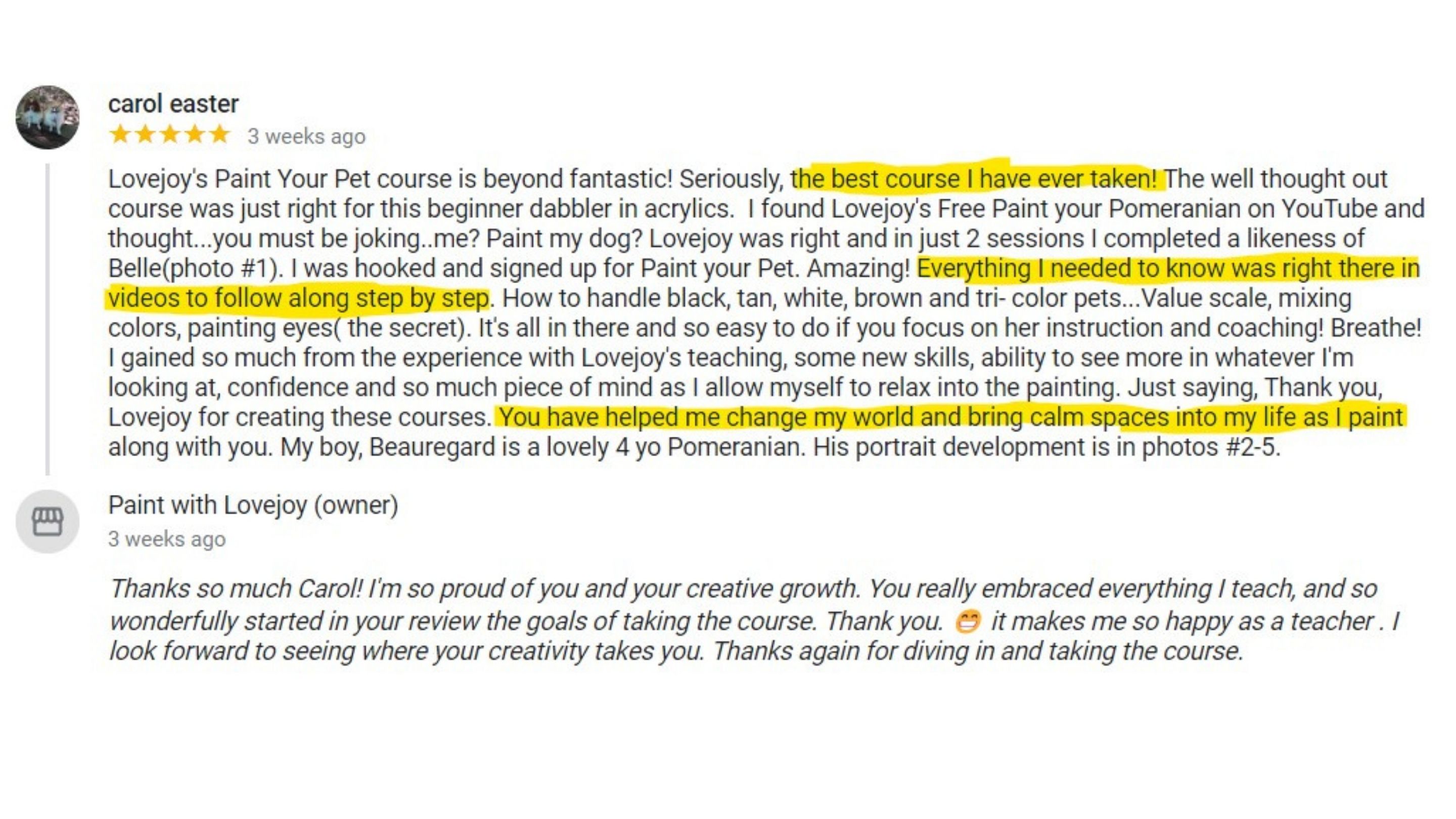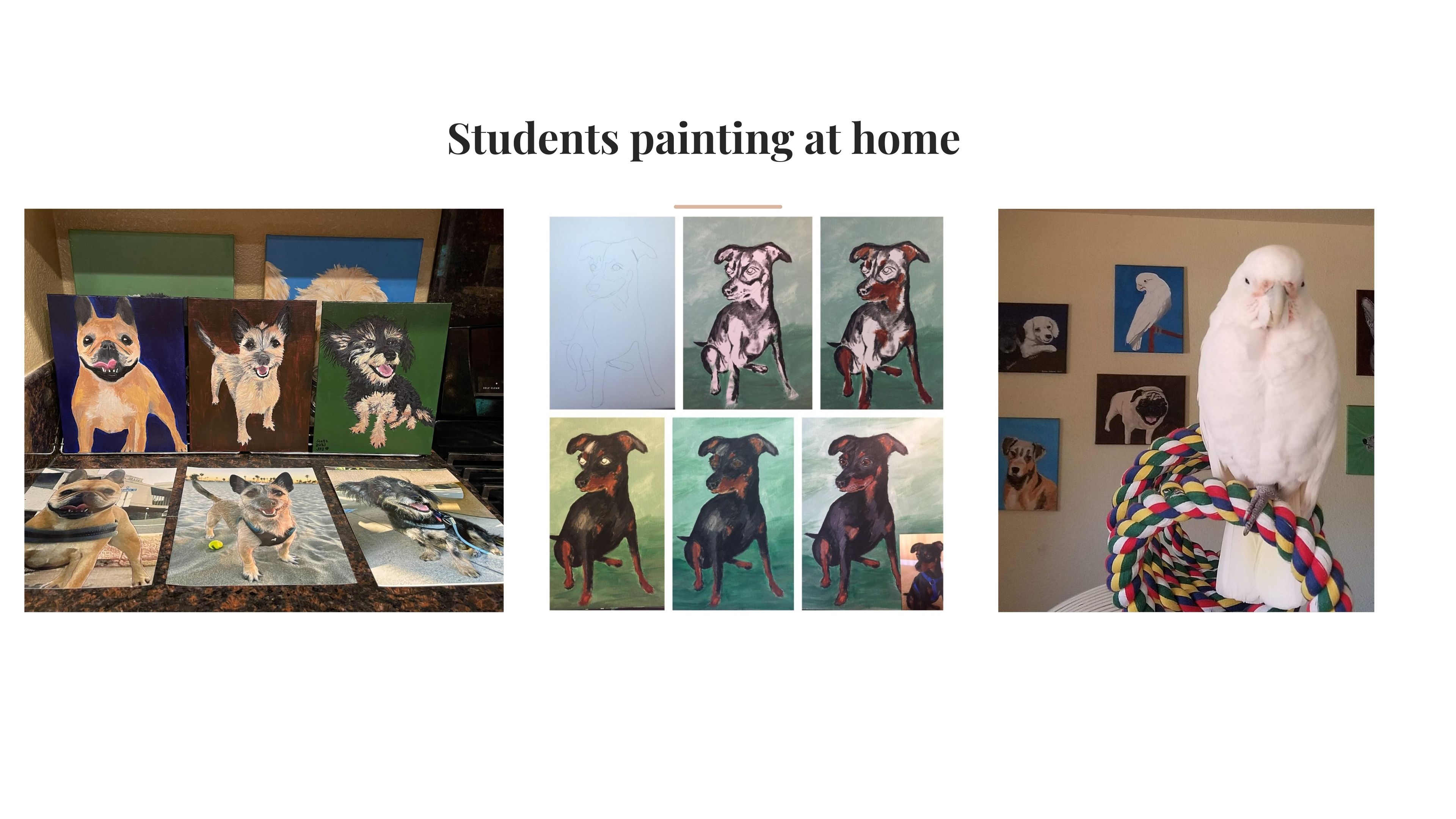 Your Instructor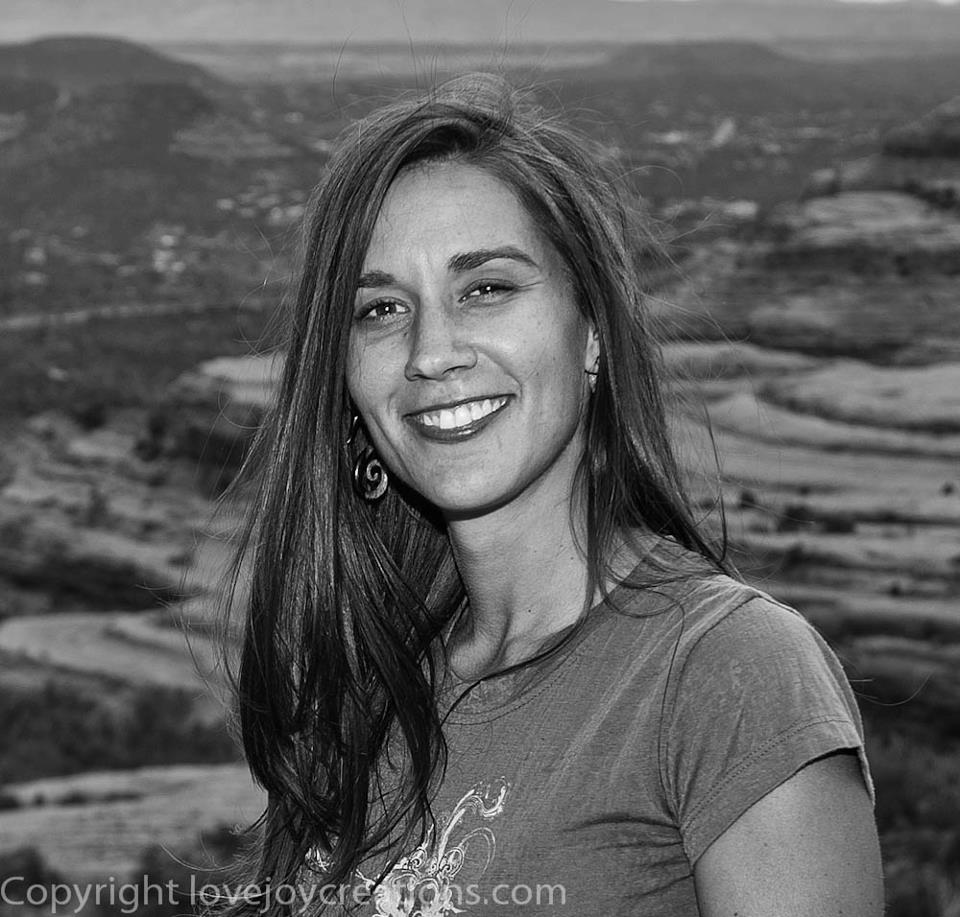 Lovejoy has taught first-time & beginner painters exclusively for the last 15 years, her "Paint Your Pet" class was the first in San Diego in 2013, and with the endorsement of the San Diego Humane Society & other local non-profit rescue groups the class became an instant hit! Her local students have helped the class grow by coming back and bringing friends. She has helped self proclaimed un-creative people find a joy in painting and see the world from a new perspective. It is from her students enthusiasm and support that Lovejoy pushed to develop this as an online course.

Lovejoy graduated from Savannah College of Art & Design in 2003. Her goal when leaving Savannah was to earn a living as an artist and to be creative and active every day. She then spent the next seven years developing her style with the palette knife and bold use of color in Sedona, AZ. "I usually don't know what my final art piece will look like when I start, only the subject and basic composition. Finding most of my creative flow within the wildlife genre, I developed a way to sculpt with paint, layer by layer. Creating a beautiful play of lights and shadows, full of unexpected colors side by side. It's a dance, a push and pull until the form becomes whole. I find so much peace when I'm creating," - Lovejoy.
See Lovejoy's professional portfolio here www.lovejoycreations.com